Check out the latest news here. You can also stay up-to-date with our LinkedIn Page.
---
Published on February 8, 2021
Hampton, VA-
For the 11th straight quarter, TrustedQA has scored exceptional or very good marks as part of our Air Operations Center (AOC) Weapon System (WS) Long-Term Modification & Sustainment (LTM&S) program and continues to shine as a Strongly Recommended supplier to the Air Force.
---
Published on September 8, 2020
TrustedQA team members are making notable progress with their Infrastructure as Code (IaC) efforts as they have embarked on high-profile projects to automate and improve build processes for several mission-critical Air Force systems. These systems include the Enhanced Geospatial Product Library (EGPL) and the Joint Automated Deep Operations Coordination System (JADOCS).
---
Published on August 31, 2020
TrustedQA's Westat Cancer Trials Support Unit (CTSU) team was extended another option year in August 2020 as they continue to do amazing work in the research field to deliver technological advancements in the areas of data collection, research, and clinical trials.
---
Published on August 4, 2020
TrustedQA's 4th option year was recently exercised for the Air Operations Center (AOC) Weapon System (WS) Long-Term Modification & Sustainment (LTM&S) program located in Hampton, VA.
---
Published on April 30, 2020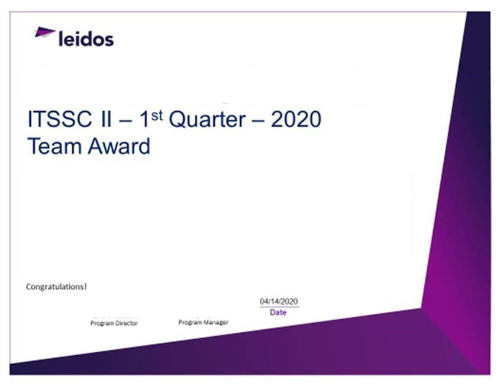 A TrustedQA Employee received the 1st Quarter 2020 Team Award from Leidos for their outstanding efforts on the Social Security Administration Information Technology Support Services Contract (SSA ITSSC II) program.
---
Published on November 14, 2019
TrustedQA's Air Operations Center (AOC) Program was recently recognized with two awards for its work on modernizing the U.S. Air Force's primary command system using the latest DevOps practices.
---
Published on June 17, 2019
TrustedQA, Inc., as part of Northrop Grumman Mission Systems' Small Business Team, successfully deployed the latest installment of the Global Command and Control System-Joint (GCCS-J) platform and was recently awarded a continuation via the Sustainment and Maintenance Contract. GCCS-J is the Department of Defense (DoD) Joint Command and Control (C2) system of record. The platform incorporates situational awareness, support for intelligence, force planning, readiness assessments, and deployment applications to plan and execute joint multinational military operations. This $76+ million-dollar award represents one base year contract with four option periods under the CIO-SP3 contracting vehicle.
---
Published on October 30, 2018
TrustedQA, Inc. as part of n-Link Corporation's Small Business Team, has been awarded the U.S. Army's Information Technology Enterprise Solutions - 3 Services (ITES-3S) contract vehicle
---
Published on October 11, 2018
Neil Moyer, President of TrustedQA, will present his insights on the 'Washington DC Metro Area QA Job Market and Hiring Trends 2018' at the upcoming Software Test Professionals Conference (STPCon) being held on October 22-25, 2018, at the Sheraton Pentagon City Hotel in Arlington, VA.
---
Published on April 20, 2018
TrustedQA was awarded a subcontract to provide software capabilities for the Joint Deployable Intelligence Support System (JDISS V) Program based in Suitland, MD. The JDISS V Program is a 5 year contract that allows connectivity and interoperability with intelligence systems supporting forces, in garrison, and deployed during peace, crisis, and war.