Check out the latest news here. You can also stay up-to-date with our LinkedIn Page.
---
Published on October 30, 2018
TrustedQA, Inc. as part of n-Link Corporation's Small Business Team, has been awarded the U.S. Army's Information Technology Enterprise Solutions - 3 Services (ITES-3S) contract vehicle
---
Published on October 11, 2018
Neil Moyer, President of TrustedQA, will present his insights on the 'Washington DC Metro Area QA Job Market and Hiring Trends 2018' at the upcoming Software Test Professionals Conference (STPCon) being held on October 22-25, 2018, at the Sheraton Pentagon City Hotel in Arlington, VA.
---
Published on April 20, 2018
TrustedQA was awarded a subcontract to provide software capabilities for the Joint Deployable Intelligence Support System (JDISS V) Program based in Suitland, MD. The JDISS V Program is a 5 year contract that allows connectivity and interoperability with intelligence systems supporting forces, in garrison, and deployed during peace, crisis, and war.
---
Published on October 8, 2017
National Geographic Partners LLC (NGP), a joint venture between National Geographic and 21st Century Fox, has continued engaging TrustedQA to support the testing and overall quality of pioneering Web/Mobile applications and Content Management Systems. At the moment, TQA is working closely with developers and producers to support the manual and automated testing of NGP's highly scalable eMedia Digital Products & Service Platform Applications.
---
Published on October 7, 2017
TrustedQA is proud to announce that the Air Force Material Command has awarded the Raytheon/TQA team a six (6) year $375m contract to sustain and modernize the US Air Force's (USAF) Air and Space Operations Center Weapon System (AOC WS). The integration of TrustedQA's FAST CAR Test Automation Framework into the proposal and live demonstration played a critical role in helping the Raytheon team achieve their proposed "innovative modernization through sustainment approach which incrementally improves systems without interruption to critical missions".
---
Published on January 30, 2017
As of January 30th, TrustedQA was awarded a contract to support Northrop Grumman's Global Exchange Services (GEX) Testing Support program. TQA will be leading the Penetration Testing efforts and Architecting/Implementing an open source automated regression testing framework utilizing Selenium across the DoD GEX family of products.
---
Published on January 20, 2017
On January 20th, 2017 the Defense Information Systems Agency (DISA) announced it selected TrustedQA, in partnership with prime contractor Electrosoft Inc., as one of four awardees on DISA's Independent Verification & Validation (IV&V) Blanket Contract Agreement (BPA)! The BPA will have a 5 year contract duration and a total ceiling value of $80M.
---
Published on May 24, 2016
TrustedQA's Wendy Brinkman and Srinivas Chereku have received Associate Commissioner Citation Awards from SSA's Division of Software Enterprise Engineering Infrastructure due to their recent contributions to the ESEF Workload Balancing Team. Since contract inception, over a dozen TrustedQA employees have been granted these prestigious citations.
---
Published on May 21, 2016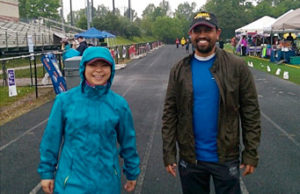 As part of the Northrop Grumman Army PPB BOS team, our TrustedQA employee's supported the American Cancer Society's Relay for Life event on Saturday, May 21st. Pictured on the right is our very own Nagaraj Sriram, who is standing beside Army PPB Deputy Program Manager, Nancy Fernando. Although the weather didn't cooperate, there was great turnout and support for this very important event!
---
Published on January 4, 2016
TrustedQA was engaged for the 6th consecutive time to provide the American Institutes for Research (AIR) with a team of engineers to test their Smarter Balanced Student Assessment system, which is a next-generation assessment system aligned to the Common Core State Standards in English Language Arts/Literacy (ELA/Literacy) and Mathematics for grades 3-8 and 11.