Check out the latest news here. You can also stay up-to-date with our LinkedIn Page.
---
Published on August 4, 2020
TrustedQA's 4th option year was recently exercised for the Air Operations Center (AOC) Weapon System (WS) Long-Term Modification & Sustainment (LTM&S) program located in Hampton, VA.
---
Published on April 30, 2020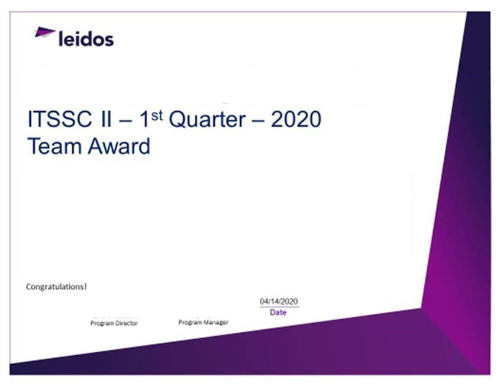 A TrustedQA Employee received the 1st Quarter 2020 Team Award from Leidos for their outstanding efforts on the Social Security Administration Information Technology Support Services Contract (SSA ITSSC II) program.
---
Published on November 14, 2019
TrustedQA's Air Operations Center (AOC) Program was recently recognized with two awards for its work on modernizing the U.S. Air Force's primary command system using the latest DevOps practices.
---
Published on June 17, 2019
TrustedQA, Inc., as part of Northrop Grumman Mission Systems' Small Business Team, successfully deployed the latest installment of the Global Command and Control System-Joint (GCCS-J) platform and was recently awarded a continuation via the Sustainment and Maintenance Contract. GCCS-J is the Department of Defense (DoD) Joint Command and Control (C2) system of record. The platform incorporates situational awareness, support for intelligence, force planning, readiness assessments, and deployment applications to plan and execute joint multinational military operations. This $76+ million-dollar award represents one base year contract with four option periods under the CIO-SP3 contracting vehicle.
---
Published on October 30, 2018
TrustedQA, Inc. as part of n-Link Corporation's Small Business Team, has been awarded the U.S. Army's Information Technology Enterprise Solutions - 3 Services (ITES-3S) contract vehicle
---
Published on October 11, 2018
Neil Moyer, President of TrustedQA, will present his insights on the 'Washington DC Metro Area QA Job Market and Hiring Trends 2018' at the upcoming Software Test Professionals Conference (STPCon) being held on October 22-25, 2018, at the Sheraton Pentagon City Hotel in Arlington, VA.
---
Published on April 20, 2018
TrustedQA was awarded a subcontract to provide software capabilities for the Joint Deployable Intelligence Support System (JDISS V) Program based in Suitland, MD. The JDISS V Program is a 5 year contract that allows connectivity and interoperability with intelligence systems supporting forces, in garrison, and deployed during peace, crisis, and war.
---
Published on October 8, 2017
National Geographic Partners LLC (NGP), a joint venture between National Geographic and 21st Century Fox, has continued engaging TrustedQA to support the testing and overall quality of pioneering Web/Mobile applications and Content Management Systems. At the moment, TQA is working closely with developers and producers to support the manual and automated testing of NGP's highly scalable eMedia Digital Products & Service Platform Applications.
---
Published on October 7, 2017
TrustedQA is proud to announce that the Air Force Material Command has awarded the Raytheon/TQA team a six (6) year $375m contract to sustain and modernize the US Air Force's (USAF) Air and Space Operations Center Weapon System (AOC WS). The integration of TrustedQA's FAST CAR Test Automation Framework into the proposal and live demonstration played a critical role in helping the Raytheon team achieve their proposed "innovative modernization through sustainment approach which incrementally improves systems without interruption to critical missions".
---
Published on January 30, 2017
As of January 30th, TrustedQA was awarded a contract to support Northrop Grumman's Global Exchange Services (GEX) Testing Support program. TQA will be leading the Penetration Testing efforts and Architecting/Implementing an open source automated regression testing framework utilizing Selenium across the DoD GEX family of products.